SGCH MAMM-KEY GYPSY'S WHISKEY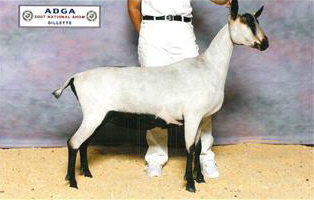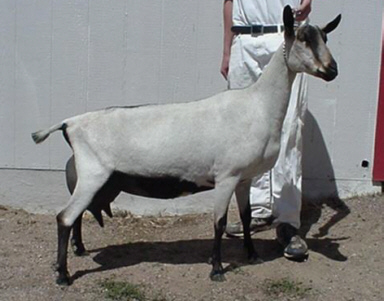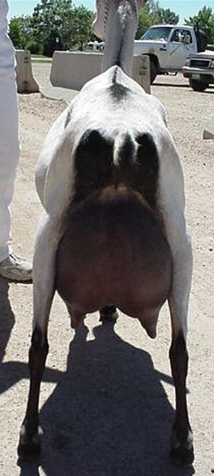 DHIR
| | | | | |
| --- | --- | --- | --- | --- |
| AGE | DAYS | MILK | FAT | PROTEIN |
| 1YR-11MO | 266 | 3510 | 117 | 97 |
| 02-11 | 276 | 4250 | 145 | 117 |
| 03-11 | 288 | 4340 | 145 | 118 |
LINEAR APPRAISAL
| | | | | | |
| --- | --- | --- | --- | --- | --- |
| AGE | GA | DC | BC | M | FS |
| 5MO | EC | EC | EC | | EC |
| 02-03 | V | E | E | | EC |
| 03-05 | E | E | E | E | 91 |
| 04-05 | E | E | E | V | 90 |
SHOW RECORD
| | | | | | |
| --- | --- | --- | --- | --- | --- |
| JBIS | GCH | RGCH | 1ST | 2ND | 3RD |
| 1X | 3X | 1X | 5X | 1X | 2X |
PEDIGREE
2007 Nat'l 16th/36 Senior Yearling
Pedigree:
SS: GCH TEMPO AQUILA FREE RADICAL (2-03 87 VEV)
SIRE: GCH CHERRY GLEN RADICAL HALLMARK AI +*B (EEE 93)
SD: SGCH CHERRY GLEN T. HOLLY'S HOPE 2*M (3-04 91 EEEE) 2001 NAT'L GCH
DS: SGCH ASLAN'S-OWN DIAMOND'S ALEX +*B (06-04 VEE 90)
DAM: SGCH MAMM-KEY LEGACY'S GYPSY 2*M (07-05 VEEE 90)
DD: SG SNOWKIST ROYAL'S LEGACY (07-03 VEEV 90)
This is another one of my pretty Gypsy girls. She is a quiet sweet doe. Easy to work with, the first time ever shown as a dry yearling, Whiskey took best in show. She is a big strong tall doe, with a deep long body. She has spring of rib and flatness of bone. Her pedigree is very strong in show and production. She is very similar in type and style as her full sister Butterfly. Whiskey is a wide doe, with strength of bone. Her fore legs are straight & long when viewed from the side. She is very level on the top line, with high withers. She has a level wide rump and width between the hocks. She has a very high escutcheon and width of rear udder. Her teats are plum and properly placed. They are a little large, yet perfect for hand milking. She is easy to milk. She has very strong pasterns and feet. She's an all round girl. Whiskey placed 2nd in milk & protein and placed 6th in butterfat in ADGA's 2009 Top-Ten list.


courtesy of Mamm-Key